Designer Laura Holzer blogs about finding a common thread in a Quilter's Paradise
A few weeks ago we snuck out of the office to go view some fabulously crafted works of art. We ventured to the Chattanooga Convention Center where they were hosting the American Quilter's Society, Quilt Show.  http://www.americanquilter.com/
There were quilts from around the world. The Tentmakers of Cairo had a number on display and for sale. Way out of our budget, but stunning. http://www.quiltviews.com/meet-the-tentmakers-of-cairo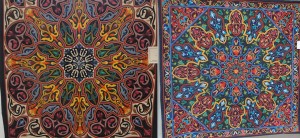 Many local artists displayed their works. One of our absolute favorites was Melody Johnson; her story is All Color All the Time. They were boldly graphic and modern with amazing detail. Below on the left is titled Matchstick Moon and to the right is a detail shot. http://www.wowmelody.com/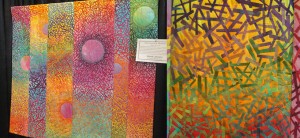 The color was endless, too many threads and fabrics to choose from. Space dyed yarns and tie-dye fabrics a plenty.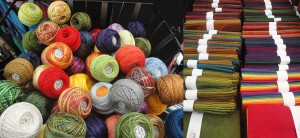 Even the animal lovers had a strong presence. Pretty much anything you could imagine you saw.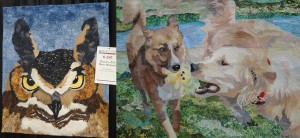 It was absolutely unbelievable. From the history of quilting to the modern designs and tools, we were blown away. Please watch for future blogs with more on this delightful experience.